7 Best 3D Printers Under $500
You are probably someone venturing out in the incredible world of 3D printing, which is why you are here gathering information on relatively inexpensive 3D printers to start your journey. If that's so, we would like to welcome you and wish you all the best for your endeavors in this 3D printing journey.
Even if you're an older user of 3D printers and just looking for a great deal for your pocket, you have all come to the right place.
We have carefully curated a list that we believe are the best 3D printers affordable. In fact, the following printers have been given high ratings from their current users on their overall performance.
And one of the exciting things about this list is that though these printers have top-notch performance and are embedded with multiple features, they differ from one another, allowing them to target a consumer's specific needs.
So don't worry. In this list, everyone can find a printer that fits for their particular needs.
A Definite Steal: Creality's Ender-3 V2 (Amazon) is one of the loved and cherished 3D printers out there amongst the users irrespective of their skill level. It's definitely an excellent printer someone who is starting as a 3D printing artist. This printer provides an ideal work station for smooth operations.
Not going into much technical stuff, all you need to know is that this improved 3D printer offers a decent print volume, is easy to assemble and use, and produces premium quality models at such an affordable price point.
However, the following are some of the characteristics that makes this printer stand out amongst the lot:
User Interface
The new and improved user interface of Ender 3 V2 makes life so much convenient. The 4.3-inch color screen is not only touch-sensitive but has all the functions easily accessible and correctly categorized.
It's quick and straightforward to operate and can easily be removed, replaced, and repaired if needed, which saves a lot of time, effort, and energy.
Quieter Operations
This printer has an incredibly quiet motor, as it is embedded with a self-developed silent motherboard that ensures smooth movement under 50 decibels—making this printer an ideal for working with anywhere at any time of the day.
Smart Add-ons
With a handy toolbox kit integrated into the machine body, it is more convenient and quicker for organization and storage tools.
Features of the Ender 3 V2
V-guide Rail with High Standard Stable to Print
Effortless Filament Feed-in
New Injection Tensioner
Resume Printing Function
UL Certified MeanWell Power Supply
Carborundum Glass Platform
Specifications of the Ender 3 V2
Machine Size: 475 x 470 x 620mm
Build Volume: 220 x 220 x 250mm
Printing Technology: Fused Deposition Modeling (FDM)
Product Weight: 7.8 KG
Layer Thickness: 0.1 – 0.4mm
Filament: PLA, ABS, TPU, PETG
Filament Diameter: 1.75mm
Maximum Heated Bed Temperature: 100°C
Maximum Extruder Temperature: 250°C
Maximum Print Speed: 180 mm/s
Pros
Ultra-silent printing
Several upgrades from the Ender 3 which make things easier to operate
Easy to use for beginners, giving out high performance and much enjoyment
Design and structure look very aesthetically pleasing
High precision printing
5 minutes to heat up
All-metal body gives stability and durability
Easy to assemble and maintain
Power supply is integrated underneath the build-plate unlike the Ender 3
Tight filament path makes printing flexible filaments possible
Cons
Doesn't have automatic bed-leveling, but manual isn't too difficult
Filament can be hard to remove after printing
Only 1 motor on the Z-axis
No touchscreen interface like some other modern printers
BL-Touch is not included
The fans have been reported to be loud on some machines, maybe due to faults.
Print resume function has failed in some cases, where it can even start from the beginning
The growing popularity and quick come up of the long-awaited Ender 3 V2 is testament to the fact that this machine is one of the best 3D printers you can get for under $500, so get yourself the Ender 3 V2 from Amazon today!
The Artillery Sidewinder X1 (Amazon) is one of the promising budget-friendly 3D printers available as of now.
This printer has fantastic potential, it not only has a large printing volume but it comes with a direct extruder (making the printing process more precise), resume printing option, and its silent motherboard makes the printing process for convenient.
Embedded with irresistible features, this is an ideal 3D print machine for any user irrespective of their knowledge. If you're in search of a carefree printing experience, this one might be one for you.
The following are some features that make this printer irresistible for the user:
Sleek Design
This 3D printer is a serious competition to other high-end and midrange printers, and one of the crowning features of it is its stunning, sleek minimal design.
Despite being embedded with numerous features and hardware, everything is tucked in neatly, giving it the professional appearance on a budget.
Premium Quality Print Results
Without a doubt, this printer provides models that are cohesive and consistent. The premium quality prints result from the direct driver and low heightened microns that this printer is embedded with.
Moreover, despite having a wide range of filament compatibility, the printer enhances the quality of the prints and ensures consistency throughout the models.
Outstanding Performance
The interactive touchscreen makes its usability so much easier.
Other than that, the printer has a decent; print volume-wise, with its quick heating print beds and premium quality nozzles, it's one of the leading 3D printers out there for beginners (mostly).
Features
Direct Drive Extruder with Volcano Nozzle
Accurate Fault Detection
AC Headed Bed
Clean Cabling System
Synchronized Dual Z System
Filament Run-out Detection
Pre-Assembled machine
Inductive End stop
Quieter printing
Patented Couplers
Specifications
Frame: Aluminum Extrusion
Build Volume: 300 x 300 x 400mm (11.81 x 11.81 x 15,75 in)
Extruder Type: Titan Extruder (Direct Drive)
Maximum Build Plate Temperature: 130°C
XYZ Positioning Accuracy: 0.05mm, 0.05mm, 0.1mm
Power Requirement: 110V – 240V 600W max (with heated bed turned on)
Connectivity: USB, TF Card, USB Stick
Machine Weight: 14kg
Maximum Print Speed: 150mm/s
Maximum Travel Speed: 250mm/s
Nozzle Diameter: 0.4mm
Filament Diameter: 1.75mm
Printing Filament: PLA, ABS, TPU, Flexibles etc.
Pros
Pre-assembled and easy to use
Direct extruder
User-friendly interface
Fast heating print bed
Interchangeable filaments
Premium quality prints
Decent print volume
Quieter performance
Z nut coupler gives smoother Z movements
Cons
Warping risk
Interchanging filament is challenging
A competitively priced direct extruder 3D printer is always loved in the 3D printing field, and the Artillery Sidewinder X1 V4 is exactly that.
If you want to get in on the ultra-quiet, fast-heating, high-quality producing 3D printer that is the Artillery Sidewinder X1 V4, you can get it yourself from Amazon today.
The Flashforge Adventurer 3 (Amazon) was primarily designed to facilitate beginners, but this affordable 3D printer is no lesser of a machine because of it.. Embedded with a fully functioning wide range of features, this makes our top list of 3D printers under $500.
The usability and functionality are top-notch, especially with features like an automatic filament feeding system, a built-in camera, and a removable/adjustable printing bed.
With these and more features, this 3D printer is an ideal choice for someone looking for outstanding performance, well-rounded specs, and an affordable price point.
The following are some impressive features that make the printer stand out:
Usability
This printer's unique selling point would be, by far, it's easy to use interface. Adventurer 3 commands are pretty easy to operate. It also allows interchanging its nozzles and other parts that to with ease.
Not only that, with its built-in camera and LEDs allows the user to monitor the printing process in real-time, but it also makes it easy to supervise and correct (if needed).
Printing Performance
A good 3D printer is known for its quick heating ability, and this printer does it exceptionally well. Moreover, it is relatively quiet when it comes to printing.
Sliding out the build plate and popping off the completed object is very convenient, and it's built-in fans make cooling way faster. Without a doubt coming to its smooth sailing printing, it is one of the leading competitors out there.
Enclosed Chamber
ABS can be a hazardous materials to use; therefore, having an enclosed printing chamber makes the printing process safer and more precise and smooth.
As it avoids fumes to come out and dust particles to go in and get stuck model while printing and wet.
Features
2.8-Inch TouchScreen
45 DB Noise Level
Cloud Printing
Auto Filament Loading System – (Filament Run-Out Detection)
Built-in Camera
Resume Printing Feature
Quick Heat Up – Detachable Nozzle
Removable Flexible Heated Build Plate
Specification
Build Volume: 150 x 150 x 150mm
Maximum Temperature: 100°C
Filament Compatibility: PLA, ABS, Polycarbonate, Woodfill PLA and many more.
Maximum Printing Speed: 100mm/s
Extruder: Single
Connectivity: USB, WiFi, Ethernet, Cloud Printing
Multi-Language Interface
Compatible with Windows, Vista, Mac and other operating systems
Pros
Compatible with third-party filaments
User friendly interface
Resume printing feature
Multiple connectivity options
Flexible, removable, adjustable, and heated built plate
Quiet printing process
Impressive printing precision
Premium quality prints
Cons
Adjusting large rolls of filament in the compartment is troublesome
Low compatible printing materials
No sensor to notify when the bed is leveled, but manual technique should be fine
The Flashforge Adventurer is described by many as the best budget 3D printer which is plug-and-play so it's very easy to get the hang of.
The combination of the in-built camera, fully-enclosed machine and high quality output, I'd definitely getting yourself the Flashforge Adventurer 3 from Amazon.
Product Link: https://www.amazon.com/dp/B082C8FLQC
Creality's CR-10 line has a wide range of 3D printers, some hits, and some misses, but CR-10S is one of the great ones under $500.
It is labeled as a stepping stone for newcomers as the printer is embedded with standard features, exceptional performance, and a user-friendly interface, all that at an affordable price.
Check these features, the highlight of this machine:
Automatic Bed-Leveling
A must-have feature needs to be in almost every 3D printer to make it more effective. Fortunately, this printer has it. Automatic bed leveling makes using a 3D printer very convenient and avoids many inaccuracies.
The BL-Touch sensor makes the bed find its place automatically, resulting in a smoother printing process.
Upgraded Dual Z Axis
You can get much better quality with the upgraded dual Z axis as it results in higher positioning accuracy, as well as smoother movements and faster printing. This is especially beneficial with larger 3D printers, because there is more weight involved.
Before you start those longer 3D printers, you can have more confidence that you are going to get some successful prints.
Built-in Slicer
Exclusive to this printer only, the built-in slicer makes the working process more convenient and time-effective. The best thing about Creality Slicer is that it accommodates everyone irrespective of their skill.
It provides Full, Expert, and Quick-print settings and asks the precision the user wants.
Features
High Precision Motherboard
Resume Print Function
Filament Run-Out Sensor
High Definition Touch Screen
Wide Filament Compatibility
480W Power Supply
Dual-Gear Extrusion
Improved User Interface
 Specifications
Build Volume: 300 x 300 x 400mm
Material: Aluminum
Extrusion System: Bowden feeder system
Nozzle: Single 0.4mm
Maximum Bed Temperature: 110°C
Print Bed: Tempered glass platform
Input: SD card and USB Connectivity
File Types: STL/OBJ/G-Code/JPG
Supports: Windows/Linux/Mac/XP
Layer Resolution: 100 microns or 0.1mm
Positioning Precision: Z axis 0.0025mm, XY axis 0.015mm
Printing Speed: 200mm/s
Product Weight: 14KG
Power RequirementInput: AC110V~240V
Output: DC12V, 10A 100~120W, (Support storage battery)
Pros
User-friendly interface
Very reliable machine
Quick 10-20 minute assembly
Sleek design
Built-in slicer
Easy filament insert
Detailed printing quality
Assisted bed leveling system makes it a little easier
Upgraded driver for smoother printing
No wiring hassle
 Cons
The control knob is pretty sensitive
The filament detection part is not held in place too well so it can slip easily
Older version of Cura slicer
If you are after a larger-style 3D printer that is under $500, the Creality CR-10S is a great choice that you can get for yourself on Amazon.
The Photon S is amongst Anycubic's loved 3D printers. The printer has a user-friendly interface that makes usage way more accessible than other printers in its range, especially in a resin 3D printer.
Despite having a compact working area, producing detailed models showcases its ability to have a high performing printer.
It's a substantial investment for those who want a reliable machine with new mechanical and electronic upgrades and can print exceptionally well. The following are its crowning features:
Upgraded UV Module
The new and improved UV is more potent than ever. This new feature has reduced the printing time, enhanced the performance, and it can also be upgraded per need with ease.
Z-axis Dual Linear Rail Design
The dual z-axis liner design creates a smoother surface of the models and can print intricate designs. Surprisingly this 3D printer can print thin layers, even more, delicate than 10 microns.
This printer ensures high quality, precise printing process on a budget.
Air Filtration System
This 3D printer is rightfully built with dual fans, mainly since a resin used printer, and resin produces strong odors. The air filtration system has excellent ventilation and uses activated carbon air filtration to reduce the smell even more.
Features
Resin Printer
Off-line Printing
Excellent visual quality
New UI interface
Quick Slicing
Incredibly quiet printing
Compact Design
Specification
Printing Technology: LCD-based Masked Stereolithography (MSLA)
Machine Size: 230 x 200 x 400mm
Build Volume: 115 x 65 x 165mm
Z-Layer Resolution: 10 microns
XY Resolution: 47 microns
Display: 2.8-inch color touchscreen
Input: USB connectivity
Leveling: Manual bed leveling
Materials: Photopolymer resin
Pros
Offline printing option
High quality, consistent prints
Easy to use, setup and level
Lightweight model and has a small footprint
Sturdy metal build
Quiet printing process
Cons
Small printing area
Resin 3D printing can get quite messy, especially for beginners
Fumes can be released which are pretty smelly
Models stick quite strongly to the build plate
The great thing about resin 3D printing is just how high the output quality is compared to FDM 3D printing. You can really tell the difference between the printing technologies. Resin 3D printers used to be expensive, but now they are affordable.
Get yourself the Anycubic Photon S from Amazon today.
If you're searching to invest in a printer with a sturdy frame, produces high-quality prints, and allows you to experiment with a wide range of materials at an affordable price point, then look no further than the Anycubic Mega X (Amazon).
This printer is one of the best 3D printers, especially for beginners. Embedded with industry-standard features and smart add on, it's a solid choice for a 3D printer under $500.
The following are the features that make users gravitate towards this printer even more:
Anycubic Ultra Base
The printer comes with a unique ultra-base that provides the first layer of the print to adhere to the print bed so that the whole model stays intact throughout the printing process.
The best part is it's easily detachable once the cooling is done and the model is dried. For a seamless bottom finish, this is your perfect printing solution.
Wide Range of Filament Compatibility
Having a wide range in any aspect is a plus point. This printer allows using TPU, PETG, ABS, and PLA without a challenge. Not only is that interchanging between the filaments so much easier.
So if you are looking to experiment with different filaments and create a unique model, this printer is for you.
Sturdy Build
The Anycubic Mega X has metal hardware that automatically adds value to the machine and seamlessness to the prints. Because of the metal build, the device is very stable and doesn't move around with massive printing, ensuring consistent prints.
Features
Fast Assembly
Filament Run-Out Sensor
Resume Printing Option
TFT HD Touch Screen
High Quality Extruder
Suspended Filament Rack
Large Volume Built
Specifications of the Anycubic Mega-X
Printing Technology:FDM (Fused Deposition Modeling)
Print Accuracy: 0.05-0.3mm
Positioning Accuracy: X/Y 0.0125mm,Z 0.002mm
Nozzle Diameter: 0.4mm
Print Speed: 20~100mm/s
Travel Speed: 100mm/s
Supported Materials: PLA, ABS, HIPS,TPU etc.
Build volume: 300mm x 300mm x 305mm
Max Extruder Temperature: 275°C
Certifications: UL, CE, FCC, RoHS ,EN
Printer Dimensions: 500mm x 500mm x 553mm
Weight: ~14kg
Input rating: 110V/220V AC, 50/60Hz
Slicer Software: Cura
Software Input Formats: .STL, .OBJ, .DAE, .AMF
Software Output Formats: GCode
Connection: SD card/USB cable
Display: Full-color touchscreen
Max Extruder Temperature: 275°C
Pros
High quality prints
Wide range of filament compatibility including flexibles
Easy to use with touchscreen and simple operation
Easy to assemble requiring just plug in 12 screws and 3 cables
New and improved extruder
Reliable printing with multi-day prints not being a problem.
Strong and secure adhesion
Resume Printing
Budget friendly
Pro-active technical support
Cons
Noisy printing process
Risk of wrapping
On a beautiful Anycubic Mega X, one user managed to crank out an 80-hour print without issues, which goes to show how solid of a 3D printer this one is. The sturdy, rigid frame and parts make life easier and some users say they never have to level the bed!
For a 3D printer under $500, you can't go with the Anycubic Mega X from Amazon. Sometimes there are coupons within Amazon where you can save money, so check out whether it is still active.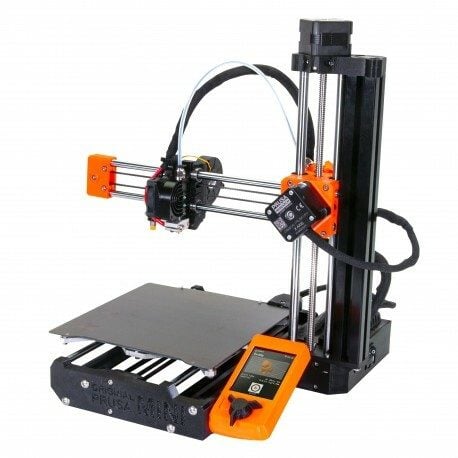 The Original Prusa Mini is an ideal printer for someone venturing into the world of 3D printing. From a wide range of pre-loved and new improved features to its affordable price point.
It is an excellent deal for high-quality printing models on a budget. The following are the characteristics that make this mini version printer stand out:
Bowden System With 3:1 Gearing
This mini printer has a 3:1 drive gear ratio, which keeps the extruder in check by reducing, wobbles when it comes to printing, ensuring a seamless finish. Although it is different than the Prusa I3 MK3S which is direct drive, you can still 3D print with flexibles nicely.
Magnetic Print Bed
The removable magnetic print bed is an excellent addition to the 3D printing process. It makes removing prints that much easier, where a simple bending of the print bed is usually enough to set free your prints.
It is a spring steel sheet with a PEI surface which works very well for several 3D printing materials. You can pick out of the two variations, the smooth surface or the textured one.
Network Connectivity
The Original Prusa Mini comes with an ethernet RJ45 port, along with the option to upgrade to the ESP Wi-Fi module. You can wirelessly send files to the 3D printer and even download firmware update.
This feature makes your 3D printing a smoother processand even makes managing a future print farm a whole lot easier.
Features
Compact Build Size
3:1 Geared Extruder
Color LCD Screen
Network Connectivity
Removable Magnetic Print Bed
Fully Functioning One-Click Command
32-Bit Controller
Ready to Print Settings
Safety Features
Guaranteed Quality
Easy 3-Piece Assembly
Top-Rated 24/7 Support
Specification
Build Volume: 180 x 180 x 180mm
Maximum Extruder Temperature: 280°C
Maximum Print Bed Temperature: 100°C
Maximum Print Speed: 200+mm/s
Connectivity: USD, Ethernet & Wi-Fi
Filament Compatibility: PLA, ABS, ASA, PETG, Flexibles
Extrusion System: Bowden
Pros
Easy to setup and use
Premium quality straight out the box
Relatively high printing speed
Compact and easy to make space for in your workspace
Intuitive color LCD screen with preview features
Cons
Buying Guide
Finding 3D printers with useful industry-standard features on a budget is challenging, especially for a beginner, but with the right knowledge, it gets a lot easier.
This article have carefully analyzes several 3D printer on the market with an affordable price point and have come up with the above list.
However, before blindly choosing one printer over another, go through the following points to narrow your printer preference based on your needs by prioritizing the features that are fitting for you.
Ease of Use
If you went through the list, you might have seen that some printers have a friendlier interface than others, easy to operate, assemble, adjust, insert, and repair. So as a user, you have to analyze your skillset and figure out how easily you can adapt to a 3D printer's workings.
Materials
Despite having a budget-friendly range, some printers offer a wide range of printing material compatibility and compatibility with third-party material. So if you're someone who wants to experiment with different types of filaments and resin, go for printers with a wide range of compatibility.
Print Quality
One of the critical factors that need to be considered is the quality of the prints. Though all the printers have a decent print quality, they do differ. The height of a micron (Z height) needs to be considered for a good quality print.
The lower the micron is, the higher the resolution will be as more layers are printed in making of the model, which means more the cohesive, attractive, and a more robust model.
Extra Things to Consider
Safety features (Closed chamber for fumes prevention, fault detector, etc.)
Printing Volume
Resume Printing and run-out filament detectors
Good customer support (Anything can go wrong anytime and good customer support means quick and easy fix of your issues.)
Conclusion
3D printers used to be very expensive machines, used by people who had plenty cash lying around, but times have definitely changed to where you can get a solid 3D printer for a lot cheaper.
If you are a beginner and looking to get your first 3D printer, I would recommend getting yourself the Creality Ender 3 V2 3D printer from Amazon.
From the ease of assembly, to ease of use, build volume, many useful features and competitive price, it's an easy choice to go with for a 3D printer under $500, that will deliver some great printing quality and models you can be proud of.